Our Mission
The mission of Junior World Golf is to bring together young golfers from from all across the world, provide a one-of-a-kind, premiere golf experience, and ultimately encourage cultural unity and understanding. We believe that by serving young people in this way, we are helping to give them a better chance of creating a kinder, more unified world.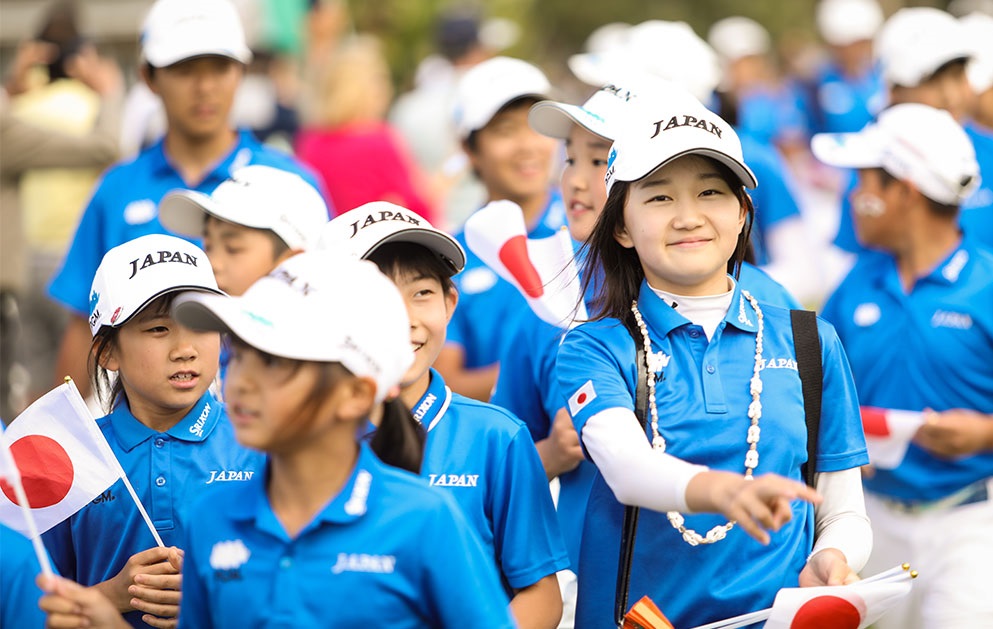 History of the Junior World Golf Championships
It all began in February 1968 when John W Brown, A.S. "Lou" Smith, and Norrie West decided the San Diego Junior Golf Association would host the very first Junior World Golf Championship tournament. The three had dreamed of organizing a tournament where juniors from all parts of the world could come together to play golf and share in cultural exchange.
The following is taken from the 1968 Junior World Program created by Norrie West:
The idea behind the Junior World Golf Championships is simply "YOUTH." The San Diego County Junior Golf Association is founded on the principle of serving young people, in the hope that by doing so today's youth will have a better chance of creating the world we all want. The Junior World tournament is an international extension of that principle. We believe that by bringing together young people from all parts of the world and all parts of our nation, we are helping to bring about greater understanding among people of differing cultures and values.
In its inagural year, the event attracted 475 junior golfers from seven countries and 20 states. Today, the tournament has grown to 1250 participants, representing 56 countries and 42 states. The IMG Academcy Junior World Golf Championship is now the largest international event in the world, unique for its international representation and cultural diversity.

The Junior World has enjoyed representation from the following countries and territories since 1968:
America Samoa
Argentina
Australia
Bahamas
Barbados
Belgium
Bermuda
Bolivia
Brazil
Canada
Chile
China
Colombia
Costa Rica
Czech Republic
Denmark
Dominican Republic
Ecuador
Egypt
El Salvador
England
France
Gambia
Germany
Great Britain
Guam
Guatemala
Guatemala
Honduras
Hong Kong
Iceland
India
Indonesia
Ireland
Israel
Italy
Jamaica
Japan
Kazakhstan
Kenya
Lebanon
Mariana Islands
Mauritius
Malaysia
Mexico
New Guinea
New Zealand
Nigeria
Northern Ireland
Norway
Pakistan
Panama
Paraguay
Peru
Philippines
Poland
Portugal
Puerto Rico
Qatar
Rarotonga (Cook Islands)
Rhodesia (Zimbabwe)
Saipan
San Marino
Scotland
Singapore
South Africa
South Korea
Sri Lanka
St. Lucia
Sweden
Switzerland
Tahiti
Taiwan
Thailand
Trinidad & Tobago
United Arab Emirates
United Kingdom
United States
Uruguay
Venezuela
Virgin Islands
Zambia
The History of the San Diego Junior Golf Association
After shuttling kids to and from Los Angeles to play in junior tournaments, John Brown and an original group of 50 young players decided to start their own tournaments at the then Mission Valley Country Club in 1952. Two years later, John asked a friend, Lou Smith, to take over day-to-day operations – which she did as Executive Secretary until 1986. John Brown became and remained President of the San Diego County Junior Golf Association for the next 33 years, eventually handing off the responsibility to Norrie West, who remained President until 1993. Lou Smith passed the torch onto her daughter-in-law, Joan Smith, who served the association and its members for 40 years before retiring in 2000.
These leaders – along with their dedicated staff, board members, and a group of loyal volunteers – work hard to give kids the chance to play affordable golf and grow as upstanding individuals along the way. And 70 years later, the original mission designed by John Brown and Lou Smith remains and continues to grow stronger each day!